Silver Biotics (nanosized silver products) are a latest
generation, highly researched, non-toxic, safe product
for use in
fighting virtually all pathogenic
microoganisms — they are a must have for every
medicine cabinet and lifestyle.
Disclaimer:
Please consult a medical professional in regard to your
medical conditions and needs. Any descriptions of scientific
research, product use or other information found on this website
are given only as starting points for further thought and research
into nanosized Silver Solution technology and potential benefits.
You are encouraged to discuss this information with your licensed
health care provider. Anyone who relies on this website
information in lieu of consultation with a health professional does
so at potentially grave risk. Scientific data (that may be mentioned
on this site) is always changing. Also, there are dangers inherent in
virtually any health situation that need to be evaluated by your
health care professional who prescribes according to your unique
situation. The biggest danger in self-prescribing is the delay that
may result in getting "the most effective treatment" for your unique
body and particular situation. Your licensed healthcare provider is
the one who needs to be trusted to evaluate and recommend
according to your uniqueness and the serious of your health
needs. Although, American Biotech Labs products have been
shown to be both safe and effective in killing microorganisms,
there may be much more that needs to be considered in any
particular person's health situation. Be advised. Be smart - and
seek licensed medical help.
© Copyright 2011 to 2018 - All Rights Reserved
American Biotech Labs
Products Are Brilliant
Because
They
Work
So Well
Purchase
Silver Biotics, ASAP and Health Max High Potency
Silver Product Resources
We have numerous resources for you to peruse
regarding how to use our Silver Biotics products.
First we suggest that you look at our Silver Biotics
Frequently Asked Questions page where you can
find answers to questions regarding safety, who can
use the product, how long it will keep in storage, etc.
Second, we suggest you look at our Silver Biotics
Product Use page, where you'll find general product
usage information, as well as more specific
suggestions on product use with common infection
type situations. (Please, however always remember
that these guides and suggestions are not to be
used in place of seeing your medical professional.)
Third, we suggest you look at the book,

Silver -
Nature's Natural Healer
and learn more about
our particular Silver Molecule's capabilities (the book
is electronic form and is available free) at
SilverInstitute.com.
Purchase Silver Biotics/ASAP
Products
ABL's Nano Silver Molecules in Liquid or Gel
American Biotech Labs products supply their
powerful and effective "energized", nanosized Ag
4
O
4
silver products in a variety of formats, for pets or
people. We recommend you utilize them either
daily, or as needed to help keep your life as free as
possible from pathogens… because who needs a
needless time and energy drain from pathogens?
Silver Sol, Silver Biotics
Liquid - 10 PPM Bottle
Our 10 ppm silver liquids come
in four sizes:
•
32 ounce (largest)
•
16 ounce (large)
•
8 ounce (medium)
•
4 ounce (small - includes sprayer)
Ingredients:
50 mcg of purified silver per serving.
Other ingredients: deionized water.
Prices (inclusive of standard US shipping) are
$42.71, $30.71, $21.71 & $13.46, respectively.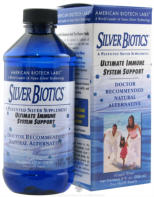 Silver Sol, Health Max
Liquid - 30 PPM Bottles
(Professional Strength)
Our Professional 3X strength
HealthMax™ (30 ppm silver)
liquid product delivers 3 times
more silver.
Ingredients:
150 mcg of purified silver per serving.
Other ingredients: deionized water.
Contact us for additional details.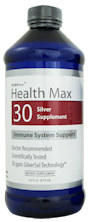 Silver Biotics Silver Gel - 20
PPM
20 PPM Silver Biotics Silver gels
come in two sizes:
•
4 ounce
•
1.5 ounce
Ingredients:
20 ppm Patented Silver Solution
(deionized water, silver), TEA and carbomer.
The prices (inclusive of standard US shipping) are
$18.71 and $8.62 respectively.
Silver Sol Tooth Gel (4 oz)
Designed to clean and sterilize
your teeth like no other tooth
gel/paste.
Ingredients:
Silver Sol, Xylitol,
100% Pure and Natural
Peppermint Oil
The price (inclusive of standard US shipping) is $10.46.

Silver Lozenges with Vitamin
C — Ultra Strength 60 PPM
(21 Lozenges Per packet)
Take at the first sign of a sore
throat. Helps to sooth and sterilize
the mouth and throat.
Ingredients:
Organic Cane Sugar,
Organic Tapioca Syrup, Organic
Honey, Patented Nano-Silver
Solution (60ppm), Organic
Peppermint Oil, Orange Cream
Flavor, Honey Flavor, Vitamin C
(90mg), Citric Acid and Lactic Acid
Blend
The price (inclusive of standard US
shipping) is $9.99.